Medical Deliveries &
Healthcare Logistics
Proudly Serving New England's Medical Community
NOW Delivery's Medical Courier Division specializes in specimen and blood transport for many of the major hospital networks across Massachusetts and RI. With over 30 years in operation, our management, dispatchers and highly trained medical couriers provide the most trusted and reliable courier service possible.
CLIENTS WE SERVE...
Blood Banks
Bio-Medical Services
Clinical Labs
Hospitals
Surgical Instrument Manufacturers
Medical Suppliers
Outreach Labs
Pharmaceuticals
Medical Institutions / Research Facilities
Home Health Care
Timely Medical Deliveries from a Reliable, Experienced Staff
NOW is fully staffed with professional couriers who are properly trained to handle medical deliveries 24/7/365. With hundreds of years of combined experience in courier / logistics management, it's no wonder the largest medical facilities put their trust in NOW Delivery.
SERVICES PROVIDED
Scheduled / Routed Deliveries
Unscheduled / STAT Deliveries
Route Optimization
Same-Day Air Courier
Same-Day Trucking / LTL Shipping
Critical Parts Warehousing
CAP Inspection / Policy Manuals
Bar Code Scanning and Tracking
Real Time GPS Tracking
TRAINED & CERTIFIED COURIERS
HIPAA Trained
Bloodborne Pathogen Trained
OSHA Compliant
Uniformed Couriers w/ ID Badges
Background Checks
Emergency Spill Kits
Temperature Controlled Coolers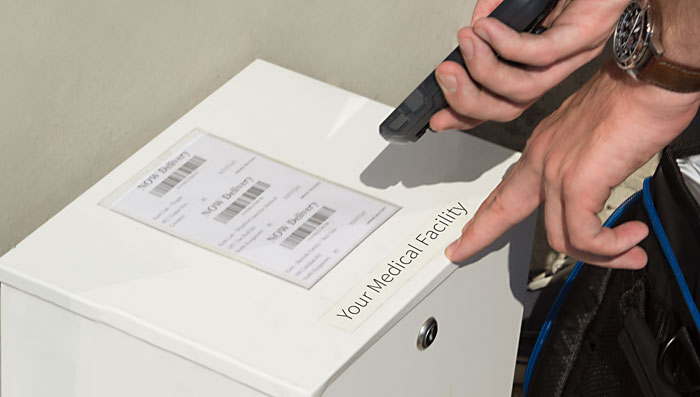 State-Of-The-Art Technology Keeps You in the Loop at All Times
Every step in our delivery process is tracked, and we always know exactly where your package is. Barcode scanning, tracking and signature capture handhelds plus real-time GPS on every vehicle follow your medical delivery in transit. Learn more here.
Scheduled Dedicated Routes Ensure a Reliable, Efficient Workflow
NOW Delivery offers scheduled routes for medical facilities that require higher delivery volume. To ensure the highest level of service, routes are optimized for peak efficiency and couriers undergo regular performance evaluations.